Wake up. Shower. Wash your face. Brush your teeth. Get dressed. Swipe on deodorant. Bolt out the door.
Maybe you add a cup of coffee into that routine…regardless, if there's one thing you're almost certainly NOT thinking about that early in the morning, it's what chemicals you putting on your body as you get ready every morning.
Deodorant, in particular, often eludes scrutiny. "Millions of people use it for decades, how bad can it be for you?" Well, as it turns out, deodorant and antiperspirant manufacturers have been called out in recent years as major contributors to cancer, kidney failure, allergies, and more tragic conditions you definitely want to avoid. The average American takes a cartridge full of chemicals and mysterious compounds they can't pronounce, and proceeds to lather their underarms liberally. Every. Single. Day. Probably a good idea to get more acquainted with the contents of your deodorant stick.
Disposable sticks also take their toll on the environment. Cartridges are typically made of heavy, single-use plastic that contains mixed-materials, making it a bit more complicated to recycle than your average plastic bottle.
In an effort to tackle the bad for your skin, worse for the environment nature of deodorant, a handful of new startups launchd refillable deodorant subscriptions made of recyclable ingredients that are all-natural and/or fully plant-based. Let's take a look at three of the most popular refillable options — Myro, Native, and by Humankind — to see which one makes the most sense for you and your scent.
How do refillable deodorant subscriptions work?
Just like how you can now get invisible teeth aligners sent to your door on a dentist-recommended timeline, new refillable deodorant subscriptions have popularized the delivery of underarm stench protection so that you never run out. That means one less thing to remember at the pharmacy.
When it comes to Myro deodorant and by Humankind, you first choose your case color and scent. From there, you'll be able to choose a delivery cadence for new refills. That is, you'll get recurring shipments of the non-plastic inside part of your current deodorant stick that you can insert into the plastic holder. You can also swap out your scent for something new to keep you and your routine feeling fresh  — whatever suits your style.
Native, on the other hand, does not offer a refillable cartridge for their natural deodorants, but you can still select a recurring delivery via their handy subscription service. In this sense, their packaging isn't 100% refillable, but it's a fool-proof system to put your deodorant on auto-buy.
Is refillable deodorant worth it?
People who choose to go the refillable deodorant route are not doing it to save money – at $10 to $12 per 2 oz for Myro and Humankind, there really isn't any savings over the traditional, disposable kind. For example, you can get a Dove 2 pack for less than $10 if its on sales at the local pharmacy. 
With the refillables, you are not only producing less plastic waste, you are getting a more natural product that is hopefully healthier for you and your skin. Plus, these brands deliver right to your house – saving you a trip to the pharmacy. So let's talk about who might benefit from a natural option.
Who should use a natural deodorant, such as Myro, Native, or Humankind?
Ideally, everybody.
While natural deodorant is great in theory, many consumers have trouble finding the right one for their body. Many also abandon natural solutions after switching from your classic Old Spice, Dove, or Suave. That's because, if you're a multi-year user of an antiperspirant or deodorant that doesn't contain natural ingredients, it can take a few weeks for your body to adjust to the chemical-free products, thus resulting in some body odor during those early days.
Plus, many newbies to natural solutions don't realize that it may require a few more swipes throughout the day to keep yourself fresh. No more "24-hour freshness" guarantees when you make the switch, but it seems like a small price to pay for lower chances of cancer down the road, and less plastic waste. It's not that hard to leave a refill at your desk so you can add in an extra swipe or two during the day to stay fresh!
Deodorant vs antiperspirant: What's the difference?
One important piece to understand is that not all deodorants should be considered equal. The biggest misunderstanding is actually the difference between a deodorant and antiperspirant. And the trouble really lies in antiperspirants.
A deodorant's goal is to mask odor through the use of essential oils, probiotics, or other antibacterial properties that aren't necessarily bad for you. For many, it gets iffy when you add an antiperspirant into the mix, which works to block your sweat from exuding out of your pores entirely.
When sweat glands are blocked, typically through the inclusion of aluminum, you reduce sweat excretion overall, or you force your other glands to work harder than they should. For many reasons sweating is good for you, and should be encouraged. And just because you sweat, that doesn't mean you have to smell. More on that below!
So what's the best refillable deodorant brands — Myro, Native, or by Humankind?
Myro vs Native vs by Humankind: Refillable Deodorant Comparison

 

 

 

Number of Scents
6
Women – 10,
Men – 7
Teen Girls – 2,
Teen Boys – 2
2
Refillable Case
✔️
✖️
✔️
Case Color Options
7
–
4
Distinct men's and women's scents?
Unisex only
✔️
Unisex only
Refill Frequency Options
3, 4, or 6 months
1, 2, 3, or 4 months
2, 4, or 6 weeks
Size
2oz
2.65oz
1.6oz
Pricing
$10
Adult – $10,
Teen – $8
$12
Free Shipping w/ Subscription?
✔️
✔️
✔️
How to Order
Like this chart? Follow us on Instagram or Pinterest to see more!
Now that you have a sense of how these refillable deo brands compare, read on to get a bit more color on each and learn about what sets each apart.
Myro Refillable Deodorant
Looking for a sleek, modernized version of natural deodorant? Myro is definitely the one for you.
Myro's deodorant is plant-powered and vegan, plus free of any gluten, soy, or mineral oil. Myro deodorant has a gel-like consistency, so keep that in mind when you're weighing your options. Not everyone likes things to be wet…. Their products are 100% natural and Myro will even give you a full refund if, for any reason, you don't end up liking their product.
One of the coolest, yet simplest features of the Myro deodorant stick is the case's circular shape. It has hard edges, so it's easy to find in your gym bag or tote. That means there's not as much rummaging around when you just need a quick swipe of Myro to smell fresh.
Source: Myro
When it comes to choosing your Myro, you'll have to pick from six different scents and seven different case colors, so you can really personalize your underarm care. Never thought that would be a thing you'd want to do? Us either, but this is 2020 people and we're talking about your long-term health here.
If you opt for a subscription of Myro deodorant, you can choose to have three refills sent your way every three, four, or six months. The initial cost (case + refill) is $10 and every refill you get after that is $10, so you'd be paying $30 each delivery.
Overall, Myro offers a sleek, simple, and gender-neutral product that's easy to incorporate into any morning routine. We love their emphasis on natural, wholesome products that are designed to delight.
More Myro Deodorant Reviews
If it's not obviously already, this brand is getting a lot of traction. Since there are so many Myro reviews all over the internet, we thought that we'd consolidate some here so you can see how other people are reviewing the product. One of the main sources of third party reviews is Reddit, where a community that like "zero waste" has talked a lot about them. 
TrustPilot also has a review, where the person says:
Native Natural Deodorant Subscription
San Francisco-born Native is on a mission to make deodorant sexy (again?) and personalized. Boasting scents that you just might want to eat (but please don't!), at a price point that doesn't make you gasp – "wait, it's HOW MUCH per swipe?!" – Native is an approachable option for any natural deodorant newbies out there looking for a more health-conscious alternative.
Native offers a range of all natural, cruelty-free products, from body wash to toothpaste to bar soap. Their deodorant, however, is aluminum, paraben, and sulfate free, so you can rest assured when putting it on everyday. While they offer distinct product lines for men, women, and teens, they encourage you to find a scent that speaks to you, regardless of label. For women, there are nine to choose from, men get seven, and the teens get four.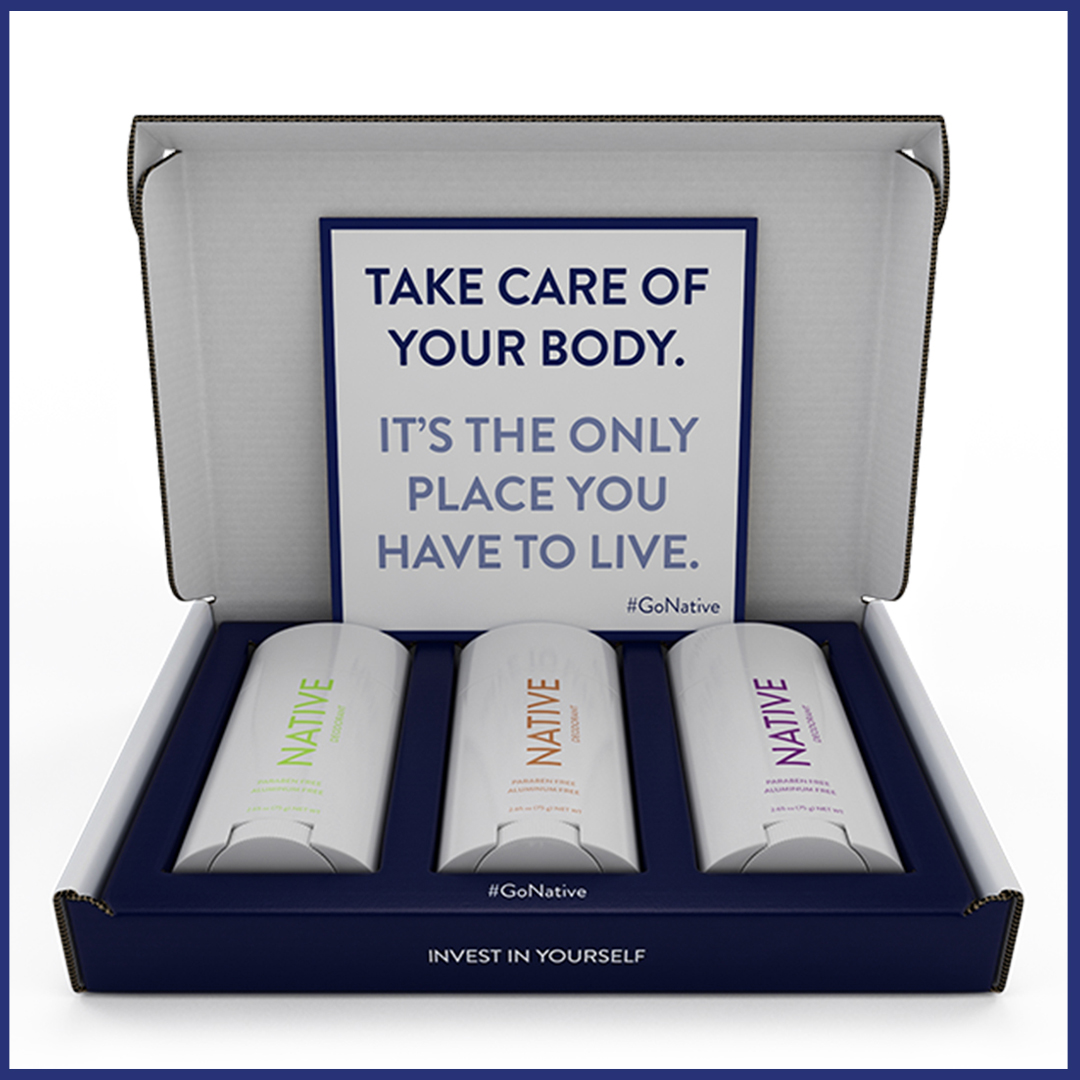 While Native does not offer a refillable case option (maybe they will soon, but for now this is a big difference from Myro!), their subscription plan lets you switch up your scent anytime. Although that may sound odd at first, their seasonal scents smell good enough to make you want to take advantage. You can choose to have a stick delivered every one, two, three, or four months, and it'll only cost you $10 each delivery with perennially free shipping.
Native uses ingredients like coconut oil, baking soda, probiotics, tapioca starch, and shea butter to keep you feeling fresh and clean. Plus, the consistency of the stick is similar to a classic solid stick, for anyone adamantly opposed to getting any sort of gooey feeling underneath their arms. This is definitely a big advantage over Myro; you don't end up with wetness right after you apply. This especially matters since you may want to apply it during the day while you're at work, so the more "normal" feel of a dry stick is very nice.
Native Co Deodorant Reviews
The internet has a TON of reviews for Native's product. You can get it at Target (but see the discount code below – you'll probably save money if you go direct and use the code). But the good news about being at Target is that there are a lot of reviews to look at.
For example, here is a typical one. The coconut and vanilla scent has over 4,000 reviews and gets an average of 4.5 stars:
There's almost always a discount or more on your first order subscription order. And just like Myro, Native offers a full refund within 30 days of purchase, so you really have nothing to lose.
by Humankind Refillable Deodorant
Deodorant almost shouldn't be this pretty. But we'll take it, by Humankind.
More than anything else, by Humankind exists to reduce single-use plastic. The one place that exists probably more than you know it? Your daily routine.
All of by Humankind's products are 100% natural and made using various minerals and plants. Their deodorant is aluminum and paraben-free and comes in either eucalyptus or unscented. by Humankind's deodorant goes on smooth and is great for sensitive skin. Like Myro, you get a refillable case and can choose between four different colors. Your container is not only refillable, but guaranteed to be so for life. Plus, $1 of each container purchase goes back to removing plastic waste from the ocean. 
Photo source: by Humankind
by Humankind deodorant refills are just $12 and get delivered every two, four, or six weeks with free, carbon neutral shipping. The higher frequency of delivery compared to Myro or Native is due to the smaller size of its cartridge.
by Humankind also offers mouthwash, cotton swabs, shampoo, conditioner, body wash, and soap, so you can totally overhaul your routine to be good for you — and for the planet! — if voting with your dollars is important to you. As their site brags: using by Humankind's products in the morning could eliminate five pounds of single use plastic each year. Not too shabby!
Discover the latest
D2C wellness products
And get exclusive discounts!
What are customers saying about Myro, Native, and by Humankind deodorant sticks?
Overall, Myro customers have enjoyed the cooling and refreshing feel of their natural deodorant. For some, it takes a bit of time to adjust to the natural deodorant; however, most are happy overall with the outcome and how it's kept them fresh. On the other hand, some customers weren't happy with the fact that the deodorant didn't stop them from smelling; however, this is a deodorant, not an antiperspirant, so it won't be as effective as stopping smell.
Boasting over 14,000 reviews, Native is loved by quite a few around the world. Customers appreciate the range of scents they offer, as well as the lasting quality of their freshness.
by Humankind Deodorant Reviews
by Humankind is kind of the silent, chic underdog when it comes to the natural deodorant game. With not quite as many customers as Native, it's hard to get a clear read on if it's worth a try. From reviews and articles we surveyed, users appreciated how it masked over and was easy to apply:
The Verdict: Which refillable deodorant subscription is best for you?
We get it: swapping out a natural deodorant for whatever you're using right now is not an easy choice. It's a bigger commitment than just swiping on something different every day as it takes two to four weeks for your body to adjust to a natural deodorant. But when you think about all the stuff your body is absorbing, plus all the unnecessary plastic you're consuming, we'll hope you reconsider. 
After diving into the details of natural refillable deodorant subscriptions from Myro, Native, and by Humankind, it's definitely a tough decision. All three companies offer fantastic natural solutions that even look pretty snazzy just sitting on your bathroom counter. But when it comes to keeping you smelling fresh? There's only one that can win.
While by Humankind is effortlessly chic, smells like a bouquet of fresh flowers, and is totally committed to the overall mission of decreasing the use of single-use plastic in your daily routine, it is still a bit new to the market. Knowing this, we're not quite sure they've perfect their formula. Plus, you're paying a bit more due to the fact that each refill is only 1.6 ounces. We recommend them only for consumers who place reducing their carbon footprint above all else.
Myro, on the other hand, offers great customization options and a slightly larger refill size. Their container color and scent offerings let you personalize your own deodorant to keep you smelling fresh on your own terms. The one thing we (and other customers) didn't love? The gel-like consistency. A little less user-friendly than a solid stick and requires a few minutes of arms-in-the-air time before moving on with your routine. If you regularly dance / groove out in the morning before work, this may be less of a burden than it is for us  😉
Last, but certainly not least: Native. Native provides an awesome solution for those looking to ease into the natural deodorant game. Their products are affordable, wonderful smelling, and loved by many. Assuming you're not completely sold the concept of a refillable case, they're our top pick. That said, with all three brands offering full refunds, no questions asked, you might as well give them each a shot and pick a favorite for yourself.
Have you tried Myro, Native, or by Humankind's refillable deodorants yet? Do you have another favorite natural brand that we should know about? Let us know in the comments below.
Discover more innovative personal hygiene
Home › Hair Care › Geologie Co-Wash Reviews Rating: 4.7 / 5 ★★★★★ 4.7/5 Most people use shampoo for their entire lives without ever questioning
Read More