Most guys have heard of the popular erectile dysfunction treatments Viagra and Cialis. But a new player on the block called BlueChew (aka bluechew.com) offers online consultations and diagnosis, and ships ED medicine directly to your door. What medicine does BlueChew offer, and does it really work? What active ingredients are inside their little blue-colored chewable tablets, and how easy is it to get? Here is what our unbiased research shows.
First, a quick intro on ED, and what to do about it
Like it or not, erectile dysfunction is something that happens to a lot of men of all ages, and especially as they get older. Research published by the Cleveland Clinic suggests that about 40% of men will be affected by the age of 40, and the older you get, the more likely it is to happen to you. The causes can be pretty complicated – but thankfully, the treatment is typically as simple as taking a pill (or now, thanks to BlueChew, a chewable tablet).
The first line of treatment for normal erectile dysfunction is one of a couple of medicines – Sildenafil or Tadalafil. Sildenafil is the active ingredient in Viagra and is designed to provide assistance for 4-6 hours. Tadalafil is the active ingredient in Cialis, and can help prevent ED for 24-36 hours. Both medicines are considered very effective, although some studies have shown that men (and their partners) may prefer the longer-acting Tadalafil.
There are alternative options to ED treatment, one of which is Testosterone Replacement Therapy (TRT). If you're interested in learning more about this method, check out our review on Peter Uncaged's TRT.
So, what's the deal with BlueChew?
BlueChew is a popular service that gets you an online visit with a medical provider who can prescribe ED medication, and discreetly deliver them directly to your home. You don't have to visit the doctor and discuss your issues or wait in line at the local pharmacy. Instead, you answer a series of health questions online and a licensed medical provider reviews and prescribes the medicine that you need to treat your erectile dysfunction.
What ED meds does BlueChew offer?
BlueChew offers both Sildenafil (the active ingredient in Viagra) and Tadalafil (the active ingredient in Cialis) in chewable, blue tablets. Why a chewable when these medicines are usually delivered in a pill? Well, for many the chewable is easier to take, especially when the mood strikes and things start to get hot and heavy 😉
Not sure which type of ED pill you prefer? We'll help you decide between the two meds in a bit, but first, let's compare BlueChew to Hims and Roman, two other popular online ED subscription services you probably have seen advertised.
Hims vs BlueChew vs Roman: Which is better for ED?
All three of these online players, including Hims and Roman, offer online ED doctor's visits, prescriptions and medications. We wrote an in-depth head-to-head comparison of BlueChew vs roman, but hopefully the chart below gives you the high-level differences.
| Online ED Comparison: BlueChew vs Roman vs Hims | | | |
| --- | --- | --- | --- |
| Doctor Consultation | Free | Free | $5 |
| Sildenafil (active ingredient in Viagra) | $3.57 per dose | $6 per dose | $6 per dose |
| Tadalafil (active ingredient in Cialis) | $5.56 per dose | $11 per dose | $8 per dose |
| Medicine Form | Chewable | Pill | Pill |
| Website | | | |
All three of these online providers offer ED subscriptions at a variety of prices, but only BlueChew offers chewable tablets (below we break out the BlueChew pricing by subscription plan – the price per dose goes down the bigger the plan). Roman has some different prices for branded Viagra and Cialis, and a few different levels of milligrams of medicine for Sildenafil and Tadalafil, and Hims makes it easy to get started with both generic and branded Viagra for just $5.
A huge difference vs Hims is that BlueChew offers a free trial — you just pay the shipping. This really makes it lower cost to try out the treatment, since it reduces the price to get going and you can cancel if you don't like it. (Roman offers a free doctor's consultation as well, FYI, but you have to pay for any / all prescribed medications). BlueChew makes it easy to cancel with a 30-day, refund guarantee. You just have to email [email protected] from your registered email address and let them know to refund your money.
Sildenafil vs Tadalafil – Which BlueChew ED medicine is right for you?
Of course, you can always ask in the online consultation if you want – but here is some information on the two drugs offered by BlueChew in their chewable tablets, Sildenafil and Tadalafil. And hopefully it is clear that these drugs are designed to be taken by men, not women.
ED Med Comparison: Sildenafil vs Tadalafil

Sildenafil
Tadalafil
Most Commonly Known Brand Name
Viagra
Cialis
Year Approved to Treat ED
1998
2008
Doctor's Prescription Required?
✅
✅
How Long Does it Work?
4-6 hours
24-36 hours
When Do You Take It?
~1 hour before
~1 hour before
Most Common Side Effects
Facial flushing (red face)
Headaches
Stomach pain
Nasal congestion
Nausea
Dizziness
Facial flushing (red face)
Headaches
Stomach upset
Nausea/diarrhea
Low blood pressure
Blurred vision
A few notes on how the company thinks you can use the meds. From a timing perspective, Tadalafil stays in the body for quite a while, so you don't have to worry as much about the timing of your sex. The company even says that it is advisable to take it every day. Sildenafil is taken when needed, and since the BlueChew formulation takes only about 30 to 40 minutes to work, you can just take it a bit ahead of time.
Are BlueChew ED meds safe?
You do need a prescription to take these drugs, and the company will provide a free, online consultation. The two medicines that the startup offers are generally considered safe for healthy men (but again, not intended for women). A study published in European Urology said, "Tadalafil at doses of 5, 10, or 20mg taken as needed up to once daily for 18 to 24 months was safe and well tolerated. These findings support the long-term use of tadalafil in the clinical management of erectile dysfunction."
A separate study about Sildenafil said, "In this 4-year, open-label study, there was a low incidence of adverse events that resulted in dosage change or discontinuation, and most continuing participants were satisfied with sildenafil treatment for their ED." I'd encourage you to answer the questions in the online doctor's visit as honestly and openly as you can so the doctor can give you a good recommendation.
As I attempted to review the research online, it seems to me that most men and their partners prefer Tadalafil, because it is long lasting, so you can be more spontaneous. However, it seems like the Viagra drug, Sildenafil, causes less annoying side effects (mainly it can make your face and skin reddish from all that extra blood flow), so it is a good, conservative choice.
BlueChew Reviews: What are people saying on Reddit about BlueChew?
Reddit has lots of reviews of BlueChew — here's a bit of the more helpful, less childish commentary:
How much does BlueChew cost per dose?
BlueChew's pricing varies by the number of tablets you want in your monthly subscription. The chewables come in individual packets, so they are easy to take anywhere – no big pill bottles to lug around.
| BlueChew Sildenafil Pricing | Dose | Price | Price per Pill |
| --- | --- | --- | --- |
| 6 Pills | 30 MG / 45 MG | $20 / $30 | $3.33 / $5.00 |
| 10 Pills | 30 MG / 45 MG | $30 / $40 | $3.00 / $4 |
| 17 Pills | 30 MG / 45 MG | $50 / $65 | $2.94 / $3.82 |
| 34 Pills | 30 MG / 45 MG | $90 / $120 | $2.64 / $3.52 |
| BlueChew Tadalafil Pricing | Dose | Price | Price per Pill |
| --- | --- | --- | --- |
| 4 Pills | 6 MG / 9 MG | $20 / $30 | $5.00 / $7.50 |
| 7 Pills | 6 MG / 9 MG | $30 / $40 | $4.28 / $5.71 |
| 14 Pills | 6 MG / 9 MG | $50 / $65 | $3.57 / $4.64 |
| 28 Pills | 6 MG / 9 MG | $90 / $120 | $3.21 / $4.28 |
Obviously, you save money the bigger the plan you choose. However, don't go too big if you aren't going to use them all, no reason to waste your hard earned cash!
The Verdict: Is BlueChew legit for ED?
ED can be pretty annoying. It can interfere with your relationship, and damage your self esteem. Plus, it's no fun. If you are a healthy male who is just having a small problem in the bedroom, BlueChew is a low-cost way to try these medications. The free virtual visit with a licensed medical provider, low cost medications and the 30 day full refund guarantee you don't have much to lose.
BlueChew is the best options for guys that prefer a chewable ED treatment vs a swallowable pill. That said, there are several other online ED providers worth checking out as well, such as Hims or Roman, as well as a new player: Huge.com. If you're in the UK, I recommend you check out Numan, and if you live in Canada, Felix Health and Jack Health are great options.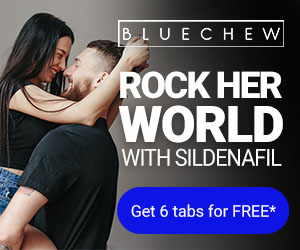 Discover more ED product reviews
Home › ED › Hims Hard Mints Review Rating: 4.7 / 5 ★★★★★ 4.7/5 Millions of men around the world suffer from erectile dysfunction (ED).
Read More