You're finally getting busy with the gal you've liked for a while. Things are getting steamy, and even though your mind is saying yes, your body is not cooperating. It might be booze or anxiety or something else, but whatever it is, it's a real mood killer.
There is an old Kings of Leon song called "Soft" that goes: 
"I'd pop myself in your body/I'd come into your party, but I'm soft." 
Even though the lead singer Caleb Follow hill is married to a Victoria Secrets model Lily Aldridge, the man clearly knows about the pain of erectile dysfunction (ED).
And he's not alone.
Erectile dysfunction affects a lot of men. Scientific studies estimating the prevalence of ED vary, but a 2018 paper suggests the condition affects about 1 in 3 men. At the same time, a 2019 study on the global prevalence of erectile dysfunction estimates that anywhere between 33-76.5% of men are affected.
However, you'd never really know how common it is because people tend not to talk about it. Our society still treats ED as a taboo, and there is a feeling among some men that it is a sign of weakness or a lack of manliness. But if it affects up to three out of every four men, it might be time to challenge these assumptions. Many men are afraid to talk about it — or seek medical help — which is a shame for them and their partners.
In this article, we'll take a look at the service Huge.com and see what they have to offer this large section of men who are suffering from ED. We'll take a look at what ED is, what medications are available to help with it, and a whole load of other information like pricing and how they compare with competitors. We'll also see what some of Huge's customers are saying about their service.
What is Huge.com?
Source: Huge
Huge.com is a newer player in the telehealth industry that specializes in erectile dysfunction. They aim to make it easier (and less embarrassing) for men to access ED medication without having to visit a doctor or health clinic physically. 
By filling the health form online and getting in touch with one of their virtual doctors, Huge helps men suffering from ED get a prescription and discrete monthly medication delivered to their door.
What is erectile dysfunction?
Erectile Dysfunction can be defined as the inability to sustain an erection firm or hard enough to enjoy sexual satisfaction in the bedroom. While this is incredibly normal from time to time for most men, if it happens frequently enough, your doctor or health professional may diagnose you with ED.
The penis contains two chambers that are called corpora cavernosa. This can be literally translated as a "cave-like body." These cylinders have little caves that, when a man is sexually aroused, fill up with blood. ED happens when there is some disruption to this process.


What causes ED?
ED can be caused by a wide range of problems, both physical and psychological.
Some of the physical causes include:
High blood pressure (hypertension)
Diabetes
High cholesterol
Hormonal problems
Injury or surgery
A few common psychological causes include:


For many men, erectile dysfunction only occurs in certain situations. For example, a man might wake up with an erection or be able to sustain an erection while masturbating, but not be able to get or maintain an erection with their partner. 
When ED only happens occasionally, in specific, high-pressure situations, the cause of the problem is likely stress or psychological based. If you can't get an erection at any time, then the underlying cause is probably physical. Other risk factors associated with ED include:
Medical conditions, like heart disease
Being overweight or obese
Prostate surgery or radiation therapy
Some medications
Drug or alcohol use
What are the most common medications for impotence?
When the muscles in the penis relax during an erection, the body releases a chemical called nitric oxide. ED medications enhance this chemical's effects, allowing an increased blood flow and a harder erection when aroused. 
Some of the commonly prescribed medications are:
Sildenafil 
Tadalafil 
Avanafil
Vardenafil 
These drugs belong to the class of medication called phosphodiesterase 5 inhibitors (PDE5i). They come in the form of tablets that are taken orally.
How well do ED medications work?
The effectiveness of a particular medication varies from person to person, depending on the causes and physiology. Sildenafil and Tadalafil are the most commonly prescribed, and they are regarded as both safe and effective, and improve erections in around 80% of test subjects. At the same time, Avanafil and Vardenafil are also considered effective and work in the same way.
It's important to note that these medications are NOT an aphrodisiac. They amplify the signal from the penile nerves, so they still require sexual stimulation to work. They vary in dosage, but are considered reliable for a reason. 
There are some slight differences between these pills. Recommended doses can be different, with the medication being used for different patients in different ways. The length of effectiveness is also variable, ranging from 4 to 36 hours.
With sildenafil, vardenafil, and avanafil, effectiveness lasts from about 4-6 hours after taking the medicine. After ingesting tadalafil, the effects can last for up to 36 hours.
All the above are recommended as safe for use by the American College of Physicians. How do you choose which ED medication to choose? Differentiating factors often include price, severity of your condition, and frequency of use.  Additionally, there are small nuances in potential side effects between different medications that patients should definitely consider as well.
What are the potential side effects of ED meds?
The side effects of these four medications are relatively similar, and generally mild in most men. They include a stuffy or runny nose, headaches, flushing, back pain, and others. Unlike the other medications listed here, Sildenafil — commonly sold under the name Viagra — can produce slight vision changes or rashes.
What does Huge.com offer men with ED? 
Huge is an online prescription service for men suffering from ED. They offer popular ED medications like Tadalafil (the active ingredient in Cialis™) and Sildenafil (the active ingredient in Viagra™). It has a network of doctors who can evaluate whether you're a fit for ED pills, and if so, prescribe the right product. Depending on state laws, a questionnaire or video call can give the doctor enough information to approve treatment in 24 to 48 hours.
The network of doctors is an interesting aspect of their service, allowing licensed health professionals to provide personalized prescription plans for each customer. With different medication strengths, dosages, and a choice between generic Tadalafil or Sildenafil, customers can choose between monthly plans (detailed below).
Like all online ED prescription services, Huge.com comes with its fair share of pros and cons. We'll dive into them below.
What makes Huge.com's ED pills legit?
Ordering and shipping are easy. Deliveries take an average of one to two weeks.
Their medicines are tried and tested and FDA approved.
The ordering process is done online, and the deliveries are discreet, meaning your business stays your business
24/7 customer support
What can Huge improve about their service?
Huge.com's service is available throughout the USA, except for Alaska, Louisiana, Minnesota, and South Carolina. 
Currently, these medications can't be covered through medical insurance, so you'll have to pay 100% out of pocket.
How do you get ED meds from Huge.com?
To order a subscription from Huge, follow these steps:
Before subscribing, users need to fill out a medical questionnaire. This will be reviewed by a health professional.
If they consider you an appropriate candidate for ED medication, Huge will get you a prescription from one of their network of doctors. If you have an existing prescription, this can be submitted.
Once the prescription has been secured, customers can choose between a range of different monthly plans.
After this, the medication is delivered discreetly. 
What are the possible side effects for Huge ED pills?
Tadalafil and Sildenafil, as mentioned above, both contain mild potential side effects that affect around one in ten men. 
Per Huge.com's website, some of the listed side effects and recommendations are.
Headaches: They recommend drinking plenty of water, but should the headache persist, you are advised to contact your doctor.
Feeling sick, flushing, indigestion, and a blocked nose are all considered temporary side effects that can affect some men. Huge.com suggests this should pass after a short time.
Dizziness or changes in vision are also detailed. This can be blurred vision or a shift in color. Huge.com recommends that should either of these symptoms occur that driving or operation tools or heavy machinery should be avoided until these symptoms desist.
One important listed warning recommends that if an erection lasts for over four hours or you experience chest pains or a sudden loss of vision, that you should consult a doctor immediately.
Pricing: How much do ED pills from Huge.com cost? 
Huge.com offers monthly subscription plans depending on volume. If you're willing to commit to higher volume of pills, the cost per pill becomes really affordable. 
For Tadalafil, consumers can choose between:
5 x 10mg of Tadalafil for $29.99 per month — or $6 per pill.
9 x 10mg of Tadalafil for $49.99 per month — or $5.56 per pill.
18 x 10mg of Tadalafil for $89.99 per month — or $5 per pill.
While the Sildenafil plans are:
6 x 50mg of Sildenafil for $29.99 per month — or $5 per pill.
14 x 50mg of Sildenafil for $49.99 per month — or $3.57 per pill.
28 x 50mg of Sildenafil for $89.99 per month — or $3.21 per pill.
How does Huge compare to other online ED pills?
We'll take a look at three other companies offering a similar service, namely Roman, BlueChew, and Hims.
We'll compare the price of their generic Tadalafil and Sildenafil prescriptions, which can be bought conveniently online via monthly subscriptions.
Huge vs Roman ED
Roman is a digital health clinic for men. Styling itself as an online pharmacy, Roman offers users both brand names like Viagra and generic ED medication. Customers take a free online medical consultation, which involves giving a recent blood pressure reading, ID, and a photograph. This is reviewed by a virtual doctor, who may then prescribe the recommended dose. They've sponsored the MLB playoffs for the last 2 years and are a very legit online provider of Rx meds for ED. They offer free 2-day delivery and several subscription services.
BlueChew vs Huge ED
BlueChew is another subscription service offering sildenafil or tadalafil, however theirs comes in a chewable form. Like Roman, to access this service, customers need to book an online appointment and upload an ID and a photo. Depending on which state the customer lives in, they may need to make a video appointment. It is important to note that while BlueChew's ingredients are FDA approved, their custom compounded chewable tablets themselves are not yet FDA approved. Their site admittedly feels a bit sketchier than the rest, but the underlying generic drugs they use in their products are clinically-tested.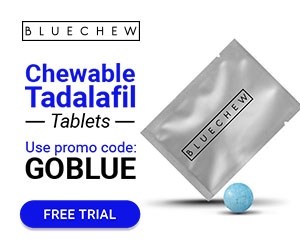 Huge.com vs Hims ED
Hims launched in 2017 as a men's telemedicine company and is slated to IPO less than 4 years later. Once again, personal medical information and an ID are passed to a virtual doctor who can prescribe medication. These are delivered monthly. Hims sells sildenafil, tadalafil, or avanafil, in both brand and generic forms. They also sell treatments for premature ejaculation ranging from sprays, wipes, and Rx pills designed to help you last longer.
Huge ED vs BlueChew vs Hims and other online alternatives
| Huge ED vs BlueChew vs Hims vs Roman | | | | |
| --- | --- | --- | --- | --- |
| Doctor consultation | Free | Free | Free | Free |
| Generic Tadalafil Cost per dose | $6 per dose | $11.56 per dose | $7.50 per dose | $8.00 per dose |
| Generic Sildenafil Cost per dose | $5 per dose | $9.57 per dose | $5 per dose | $6.00 per dose |
| Medicine Form | Tablet | Tablet | Chewable Tablet | Tablet |
| Website | | | | |