Affiliate disclosure: We are reader supported. When you buy through our links, we may earn a commission.
› ›
Medically reviewed by Dr. Steve Kim, MD
By some estimates, acne treatment is now a $10b market globally.  While blemishes have always been an acute source of insecurity, the industry's growth should come as no surprise given the rise of the "selfie". Snapchat, dating apps, and the infamous 'gram have propelled human vanity to new heights. Although fancy photo filters do an incredible job concealing imperfections, flawless skin IRL is as important as ever. Anyone who's had blemishes knows that beautifully clear skin is a true luxury that typically requires a lot of work behind the scenes.
Luckily there are a few new players in the acne treatment space that can help! You've likely heard of Proactiv, which has been around since 1995 and remains extremely popular among women of all ages, but what about Curology, Apostrophe, or Hers? This article reviews these acne treatment brands and the solutions that they offer to combat unsightly pimples. But before we dive in, here's a primer on acne treatments in general.
Background: Acne Treatment for Dummies
Acne typically starts once puberty hits, in both girls and boys between 10 to 13 years old. If you're lucky, it clears within five years as raging hormones level out, but for some it persists into adulthood. While mild symptoms are treatable with inexpensive ointments found in any beauty and personal care aisle, many suffer from more acute cases that require more attention.
In the past, getting advanced acne care required scheduling an appointment with a dermatologist, asking for a prescription for anti-acne meds, and then picking them up from your local pharmacy. This lengthy and expensive process discouraged many, but changes in telemedicine over the last decade mean it's legal for doctors in most states to conduct visits and prescribe drugs over the phone, leading to a surge in remote medical services. Skincare companies like Hers and Curology are taking advantage and making prescription acne meds more accessible than ever.
Without a doubt, Proactiv, Curology, Apostrophe, and Hers are four of the most advanced acne subscriptions on the market. If you're suffering from more than an occasionally ill-timed whitehead, it's worth looking into them. All three offer easy-to-follow regimens and convenient delivery direct to your doorstep. Most importantly, they deliver results. There's a growing body of evidence demonstrating that all three actually WORK to clear up your skin. How exactly do they do so? What science behind these formulas? Let's dig into the underlying active ingredients and how they work to clear up your skin. If you're more interested in how newer brands like Apostrophe,  Curology, and Hers compare to Proactiv, feel free to skip ahead to our head-to-head comparison instead.
What are the active ingredients in Proactiv, Curology, Apostrophe, and Hers that combat acne?
Here's a quick breakdown of the most important chemicals in Proactiv, Curology, and Hers skincare concoctions that work to minimize and eliminate acne.
Benzoyl Peroxide
. . . brings oxygen to pores where acne-causing bacteria live, which then kills them since they don't want oxygen. It also helps unclog pores and reduces inflammation that comes with pimples.
Retinoids
. . . are derivatives of Vitamin A that help acne in three major ways; they regulate skin cell turnover to keep dead skin cells from blocking pores, and clear existing blemishes as well as keep inflammation at bay. The most common topical retinoids are Adapalene and Tretinoin, with the latter only available through a prescription.
Salicylic Acid
. . . works by exfoliating the surface of your skin. It sloughs off the top layer and gets to work deep in your pores, unclogging them of debris and reducing the secretion of sebum (an oily substance produced by the sebaceous glands). It works well to remove whiteheads and blackheads, but only marginally improves cystic acne, so it's typically paired with another treatment.
Azelaic acid
. . . works in a similar way to unclog pores and polish skin texture. It's an exfoliant that helps fade blemishes, spots, and discoloration, leaving a more even skin tone and smoother complexion.
Niacinamide
. . . is like a magic potion that works for a whole slew of skin types and concerns. It helps with improving dullness and tone, reducing fine lines and wrinkles, and general improvement of skin texture. Niacinamide also plays well with other common skincare ingredients, making it a great addition to any routine.
Clindamycin
. . . is an antibiotic that's used to treat a wide spectrum of bacterial infections. It's commonly used as a topical treatment, although in some cases of severe acne, doctors can prescribe it as oral medicine. It has anti-inflammatory effects, so it calms down redness and swelling of existing acne, and also prevents new breakouts by killing acne-causing bacteria.
Doxycycline
. . . is an oral treatments for inflammatory acne (that means red, painful, and cystic bumps). It works by reducing inflammation and killing acne-causing bacteria.
Spironolactone
. . . treats hormonal acne in women, reducing the effects of testosterone, helping clear acne from the inside out. It is most commonly prescribed as an oral medication there are also topical forms of spironolactone that that can be used by both women and men.
Curious which brand uses which chemicals in which formulas? We'll introduce each in a bit more detail below and in the comparison table below.
Proactiv: An industry leader for over 20 years
Proactiv has been in business since the mid-90's, and many of you will likely remember their TV infomercials. They introduced a three-step acne clearing system consisting of a renewing cleanser, revitalizing toner, and repairing treatment, with benzoyl peroxide as its silver bullet. This ingredient is found in many over-the-counter zit creams, but Proactiv's is much more finely milled, allowing it to work deeper into your pores.
Proactiv now offers three different acne solution sets to choose from, each with a distinct formulas or active ingredients. The second set adds salicylic acid in the mix, while the latest iteration, ProactivMD, uses Adapalene and was previously unavailable without a prescription. Hooray for more access to potent, well-tested treatments without an in-person doctor's appointment! (PS here's a coupon for 10% off,  exclusively for  Fin vs Fin readers).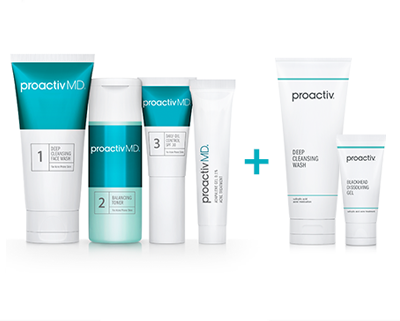 Curology: The most personalized acne care yet?
Like Proactiv, Curology also has a three-step kit that focuses on the acne treatment in the "superbottle", flanked by a cleanser and a moisturizer. This second step contains a customized formula that targets your needs whether it's acne, clogged pores, dark spots, firmness, skin texture, or wrinkles. They require you to take a quiz before ordering your bottle, which helps narrow down and personalize your treatment. Afterward you get paired with a medical provider to chat and make sure you receive the right doses of each active ingredient. These 1-1 chats also let your provider evaluate your progress via selfies and tweak your formulation as needed. They're essentially consultations with medical professionals, which is how Curology is able to send Rx-strength blends.
Hers Skincare Review: Acne care made simple
Hers simplifies the skincare process even further by offering only two steps—one in the AM and another at night. For a small fee, they provide a consultation with a physician before your order ships so they can formulate the right prescription for you. They require a session on each of your recurring orders to ensure that your skin is improving and free from any side effects. Sounds like overkill to me, but again, this is how they stay compliant and many people may enjoy the subsequent check ups.
Hers also offers other products for anti-aging and hyperpigmentation, but you have to buy those items separately rather than blended together like in Curology's superbottle.
Source: Hers
Apostrophe: for those ready to take acne care seriously
Apostrophe is refreshingly transparent and personalized. They pair you with a board-certified dermatologist to create your individual treatment plan and guide you through your skincare journey. If you'd tried other acne remedies without success, it may be time to step it up with a prescription-strength formula from Apostrophe.
They prescribe both topical and oral medications so you can treat your acne from the outside-in and the inside-out. And they also offer  additional products for wrinkles, rosacea, and hyperpigmentation.
Source: Apostrophe
Proactiv vs Curology vs Hers: Comparing Top Acne Treatment Subscriptions for Women
Online Acne Treatment Comparison: Proactiv vs Curology vs Hers vs Apostrophe

Proactiv

 

Curology

 

Hers

 

Apostrophe

 

Program Overview
Three-step routine designed to fight acne
Three-step routine with a formula personalized to your skin
AM & PM solutions individually formulated to combat acne
Dermatologist prescribed (virtually) acne meds for your condition.
Prescription Needed?
❌
Yes, consultation included in subscription
Yes, consultation is paired with the subscription
Yes, there's a $20 consultation fee, but it's refunded when you order meds
Monthly Price
Starting at $19.95, with 30 or 90 day subscription
Starting at $19.95 a month
Starting at $44, plus $5 medical fee
Starting at $25 a month
Shipping
Free shipping for the 90 day plan
Free shipping for the 60 day plan
Free
Free
Trial
Fin vs Fin readers get an exclusive 10% discount & 60 day money back guarantee
Free trial for 30 days
Only $5 for the first month
Use code FIN15 to get $15 off your first order
Active Ingredients
Benzoyl peroxide
Adapalene
Salicylic Acid
Avobenzone
Octisalate
Octocylene
Tretinoin
Niacinamide
Clindamycin
Zinc Pyrithione
Azelaic Acid
Vitamin C
Tretinoin
Niacinamide
Clindamycin Phosphate

Tretinoin
Clindamycin
Benzoyl Peroxide
Azelaic Acid
Metronidazole

Doxycycline

Spironolactone

Tranexamic Acid

Hydroquinone

Niacinamide

Tazarotene

Minocycline

Other products
None, Proactiv specializes in acne
None, your super bottle covers a number of skin concerns
– Anti-aging cream
– Melasma treatment
– Anti-aging
– hyper-pigmentation
– rosacea
– latisse
Website
Proactiv vs Curology vs Hers vs Apostrophe: Why buy acne meds online?
Right off the bat, these companies offer skincare solutions that are a lot more potent than anything at a drugstore or beauty boutique. Proactiv formulates its product with micro-crystal benzoyl peroxide, while Curology and Hers are able to deliver prescription-strength solutions. All three have created a system that uses ingredients that work together, removing the guesswork of what products to use for which skin care concern, and when to use them.
Apostrophe, Curology, and  Hers all connect you with an MD to consult with over the internet. It's super convenient not having to book an appointment months out, schedule time off of work, and fork over an expensive copay. Instead, you can get acne advice from the comfort of your own home, and you're also able to talk to the consultants through the course of your treatment, which often means eliminating multiple visits. All in all, these three virtual dermatologists make it a lot easier and cheaper to start and maintain a treatment plan formulated by experts.
Speaking of cost, all four companies also make these products available for less than a visit to the dermatologist (even WITH health insurance!), making them inherently cheaper since their package already includes the skincare itself. Some treatments are even considered elective and won't be covered by insurance at all, and some doctors require a referral from your primary care physician—doubling the cost even before you get to the products.
And of course, everyone loves free shipping. Proactiv, Curology, Apostrophe, and Hers all offer a subscription service that delivers to your home, ensuring that you'll never run out of product. This convenience also makes it easy to stay on track with your daily routine, which is very important when you're using prescription skincare.
While we're talking about DTC brands, we wanted to mention that we have a newsletter that covers all the latest offerings. Subscribe below to stay in the loop:
However, like all skincare regimens, it may take some trial and error to get things right. Over time your skin may also start reacting differently to various ingredients, sometimes developing resistance, or conversely becoming too sensitive. You'll have to periodically review your subscription to see if you're still happy with the results you're getting — all the more reason to find personalized treatment that you can afford over the long haul. Proactiv, Curology, Apostrophe, and Hers are all fantastic options, depending on your specific needs. Let's see what their customers say about them online.
What do customers say about Curology, Proactiv, and Hers online?
Reading online reviews, it's clear that finding the right products to give you clear skin can really make you feel like a million bucks likes. Here's what some people are saying after trying Proactiv, Curology, and Hers:
This lady saw results fairly quickly from ProactivMD that uses Adapelene.
After finding that Proactiv worked for her, she got her husband on board too.
They say a picture is worth ten thousand words and after Curology, this subscriber only needed to caption with two:
The ability to get prescription medicine was the highlight of this user's Hers skincare experience:
We published our own in-depth review of Apostrophe if you're curious about our take on their products.
The Verdict: Proactiv vs Curology vs Hers vs Apostrophe -- Which is best for acne?
As we all know, zits suck. Inflamed, cystic, and recurring acne is even worse, and it's great to finally get your hands on skincare with stronger active ingredients that will be more effective than anything over the counter. With these acne treatment subscriptions, you can even get a quick and affordable professional consult that gives you access to prescription-strength products, and medical advice to go with it. As an added bonus, the products are conveniently delivered to your house, leaving you with one less thing to worry about.
If you're trying acne treatment products for the first time, Proactiv may be your best choice. Technically, they still use over the counter ingredients but process them so they work more effectively than other, more readily available products. Since it's over the counter, it would be wise to start here before moving onto doctor-prescribed medication, unless you're dead set on working with a doctor.
If so, Apostrophe might be right for you. They connect you with a licensed dermatologist via the web to recommend and prescribe the right topical and oral meds for your specific case. It's only $25/month for powerful and personalized acne treatment, plus you can save $15 more by entering code FIN15 at checkout. They also offer quality skincare products for more than just acne, which brings us to the next contender…
Curology offers solutions to a wide range of skincare needs, and their formulas can be customized to treat more than just acne since they use a number of active ingredients, including a few that help with wrinkles, tone, and more. Like Apostrophe, they provide a medical consult with the subscription, unlocking access to more Rx solutions. Another cool thing about Curology is that they offer financial assistance to teenagers and young adults who qualify for aid, making it available to those with limited funds for up to two years, free of charge.
Likewise, Hers requires an online assessment by a physician since they too formulate your solution with prescription-grade ingredients. Hers make things a little simpler by sending you two bottles — one blend for use during the day and another for night. This treatment is especially palatable for anyone tired of the more involved routine required by proactive. A major benefit is that you can use other skincare favorites (sheet mask, anyone?) in conjunction without interfering with the acne-clearing process. They also offer a separate anti-aging formula to try down the road.
It can't be said enough—acne can be devastating, especially now when there's pressure to look camera-ready straight out of bed (Thanks Beyoncé). It can really eat away at your confidence and trying a bunch of things that haven't worked is discouraging. Hopefully one of these acne treatment subscriptions is the answer you've been looking for. Give them a shot. It may just be your ticket to that #nofilter life.
Discover more women's wellness products